The sights, the hotels, the restaurants and a couple of monkeys
Contents
Introduction • Map of Bali • The Balinese Culture • Nusa Dua • Hotels in Nusa Dua • Shopping in Nusa Dua • Restaurants in Nusa Dua • Seminyak • Hotels in Seminyak • The Seminyak Beach • Shopping in Seminyak • Restaurants in Seminyak and Kuta • Clubs • Yoga • Horseback riding • Kuta Beach • Snorkeling in Padangbai • Uluwatu Temple • Ubud • Tegalalang Rice Terrace • Art Gallery De Wa Putu Toris • Monkey Forest • Facts about Bali
Introduction
To get the best out of Bali I would recommend you to stay in two different places at least. We spent one week in Nusa Dua on Bali's east coast – and one week in Seminyak, on Bali's west coast, quite close to Kuta.
Kuta is the number one tourist area in Bali; it is busy, crowded and loud.
The pace of daily-life in Seminyak and Legian is much calmer and more sophisticated.
When in Bali do not miss:
Visit a temple, for example Uluwatu,
Tegalalang Rice Terrace,
a beach of your choise,
and Monkey Forest.
Map of Bali
The Balinese Culture
Balinese Hinduism has elements of Buddhism as well as mythology, and the moral principals of non-violense and karma permeate every aspect of life.
The Balinese are religious and offer flowers and rice to the Gods three times a day.
You see the offerings everywhere: the taxi driver has a small basket on the dashboard, women carry them on their heads on their way to the temple, on the street outside a hotel, a shop or one's home so be careful when you are walking around.
The daily rituals are important.
The gift symbolizes one's gratitude towards life and the Gods who have given you all the good you have in your life. These gifts are also a way to appease the anger of the Gods so that your family will receive wealth and good health even in the future.
Another element of the Balinese culture that you most definitely will not miss is the Barong dance, shown in many restaurants. The traditional dance depicts the fight between Barong, king of all the spirits and Gods, and Rangda, the devil queen: in other words a fight between the good and the evil.
Nusa Dua and Southeastern Bali
Nusa Dua is perfect if you just want to wind down after an intensive period at work and would appreciate a quiet start of your vacation. Nusa Dua has not so much more to offer but the white sand beaches which, however, are impeccable. Not too shabby, right?
Are you a golfer? The best golf course on Bali is in Nusa Dua: Bali National Golf Club.
To get into Nusa Dua, you have to pass a security check where the guards check both who is in the car and that there are no bombs under the car. They do this even when you enter a hotel area or a shopping center.
Hotels in Nusa Dua
I really loved the Balé and so did my husband. The only problem that I can think of is that you don't want to leave it at all.
The Balé has 26 villas with a garden and an infinity pool and a couple of restaurants. Read a full revue on the Balé here.
Our friends who we were travelling with chose another hotel since they had their 8 year old son with them. They were happy with the Grand Mirage Resort, and I guess that if you prefer a child friendly all-inclusive resort this might be a good option. The rooms were nice. But what is the thing with the Balinese floors? They are so slippery that you can easily break your neck.
Awarta Nusa Dua
Awarta Nusa Dua was selected as the world's best boutique hotel 2018 (The Boutique Hotel Awards)
Shopping in Nusa Dua
Nope. We visited the mall The Bali Collection, but you might as well skip it. I bought a couple of Polo tops but other than that? Not so much.
Restaurants in Nusa Dua (dinner)
Sakala.  Fine Dining. The service is impeccable, the food is fantastic, the restaurant itself is stunning. Dress up. But, I was just thinking – what is the point of flying to the other side of the globe (I am from Sweden) just to drink French wines and have a French meal? Anyway, you will not be disapponted if this is your cup of tea.
BumbuBali.  Authentic and tasty Balinese food with entertainment.
Jimbaran Beach. Choose one of the great fish and seafood restaurants that line up next to each other on the beach and run your toes in the sand while sharing a fantastic lobster with your partner. While gazing over the horizon. Magic! Just check the restaurant in advance since not all of them are top notch.
Seminyak, Western Bali
Seminyak is both a little more exclusive and more calm than Kuta. Even though you might have a hard time crossing the street before you get the hang of it…
Hotels in Seminyak
We stayed at Luna 2 in Seminyak but the hotel is today permanently closed. However, I definitely would recommend a stay somewhere at the beach. It truly is so beautiful.
The Seminyak Beach
Shopping in Seminyak
Restaurants in Seminyak (dinner)
Looking for a more flashy spots? Try Potatohead or Ku De Ta.
See also The Bali Bible.
Clubs in Seminyak
Yoga in Seminyak
I joined a vinasa class which was great. However, there is no air conditioning so be prepared for a real bikram class. It says on their home page that all levels are wellcome but I would not recommend this one for a total beginner.
Desa Seni has, according to many, the best yoga classes.
Horseback riding in Seminyak
Kuta Beach
Kuta is larger than Seminyak and has a wide range of anything possible. I prefer Seminyak but our friends who stayed at Hard Rock Hotel thought both the hotel and Kuta were great.
Kuta Beach is the most famous beach on Bali and a really crowded one. If you want to learn how to surf this is a place for you. Those who are looking for mega waves head to Uluwatu, PadangPadang or Impossibles.
Snorkeling in Padangbai, Eastern Bali
Bali is surrounded by coral reefs and especially the East Coast is suited for snorkeling and scuba diving, like Nusa Lembongan and Nusa Penida.
While we were in Bali the currents were too strong in both Nusa Penida and Nusa Lempongan so we decided to go snorkeling in Padangbai with Aquamarine diving. It was great and actually like swimming in a big aquarium – so many fish, one more colourful than the other.
If you have time, why not head to Komodo National Park, which is also a UNESCO World Heritage Site. Fantastic snorkeling and scuba diving guaranteed!
Seen on our way to Padangbai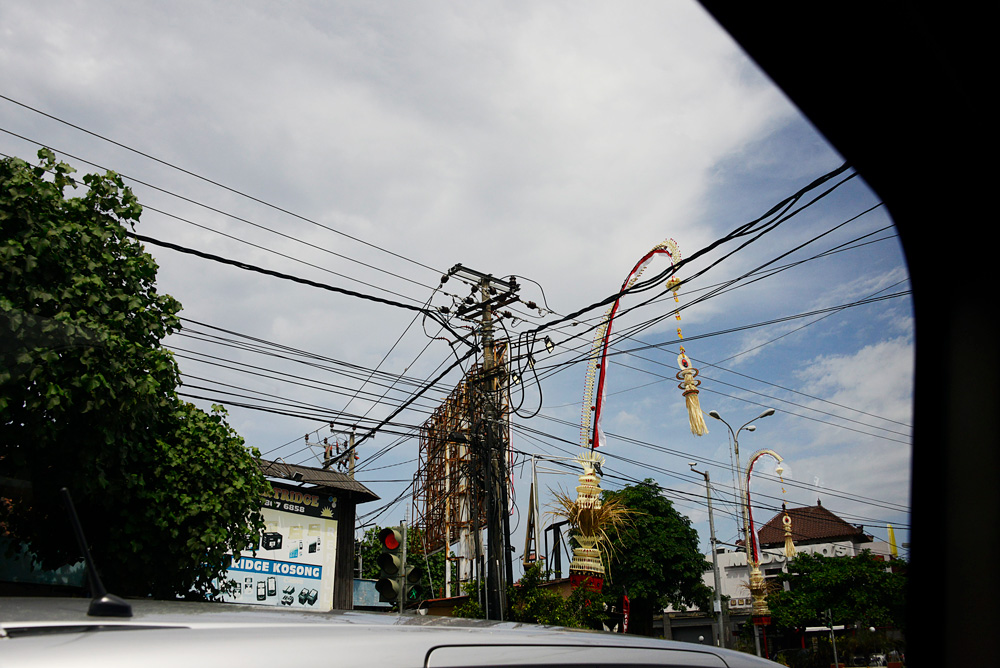 Uluwatu Temple, Southern Bali
According to popular belief, the good deities recide in the mountains and the evil ones in the ocean. This is why many Balinese cannot swim.
The sunset is supposed to be especially stunning from this point. And stunning, yes, it most certainly is.
Neither demons nor other monster can walk up the stairs which means that the temple area is a safe place.
Temple etiquette
1. Always wear a sarong.
2. Do not walk in front of people who are praying.
3. Do not take photographs of the priest.
4. Do not stand or sit higher than the priest or the offerings.
5. Women are not allowed to enter the temple while menstruating.
Even if Uluwatu might not be the most spectacular temple area in Bali it really is interesting and beautiful with all the cliffs and the Indian Ocean embracing it all.
If you are in Uluwatu you might want to check out the Finns Beach Club for a drink. Or you could also go snorkeling, kayaking or SUP.
Ubud
Ubud is Bali's cultural and spiritual centre.
Capella Ubud, the hotel of the year in 2018, will take your breath away.
Tegalalang Rice Terrace
The largest and most beautiful rice field in Bali, Tegalalang Rice Terrace, is located north of Ubud (c. 20 minutes by car). Tegalalang Rice Terrace is one of the UNESCO World Heritage Sites.
The area is a popular tourist attraction and so well worth a visit. Be sure to wear comfortable shoes if you want to walk through the fields because it gets rather steep at times and there are a lot of stairs.
The irrigation system follows a 1000 years old tradition. The villagers cooperate to keep it running.
Art Gallery De Wa Putu Toris, Ubud
De Wa Putu Toris is a large art gallery that offers both tacky paintings and beautiful pieces of work of art on the more minimalist side. We bought two graphic prints which still are hanging in our kitchen, highly admired.
I can honestly say that I am not a monkey person. Even so, I trully recommend a visit at the Monkey Forest. The monkeys are actually fun to watch and the whole place is so magical – just to walk around and take in the sacred forest and the holy trees.
There is also an amphitheater, a temple, a "Holy Pool" and a lots of deers.
The Monkey Forest is also an ecological reserve and a primate research center.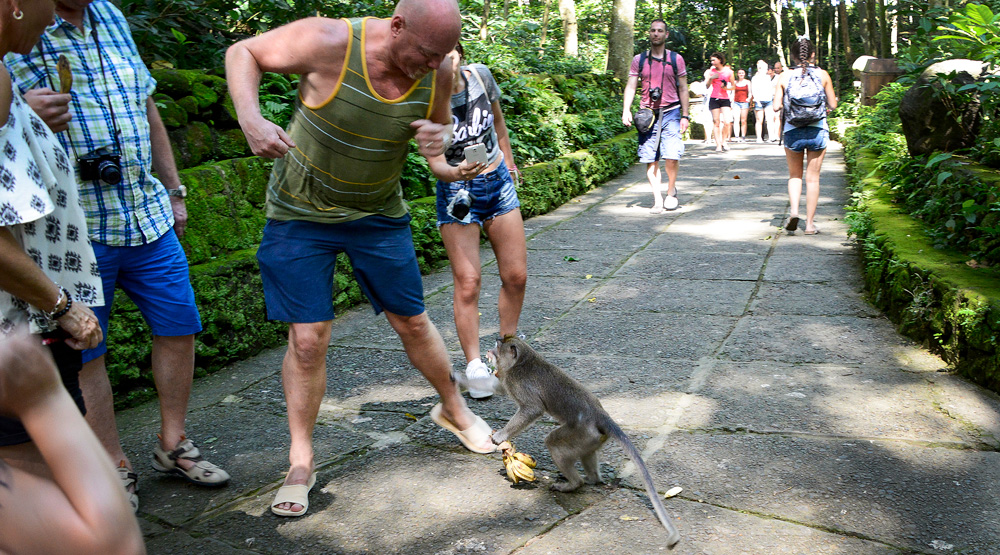 If you don't want the monkeys climbing on you don't bring any bananas with you – if they see you don't have any thay will leave you alone.
The Monkey Forest has 115 different kinds of trees.
Facts about Bali
---
Population: Hindus 84 % (as opposed to Indonesia as a whole where Muslims make up the largest religious group with approximately 87 %)
Temperature: 28-29 degrees all year around.
Language: Balinese or Indonesian. Most people do speak English.
Visa on Arrival: c. 35 USD. Make sure to bring cash because card is not accepted. Even though you might have read that no visa is required you still need one upon arrival.
Airport tax: Make sure it is included in your air fare.
Rent a car? Don't bother. The roads are bad and the traffic – even worse. It is cheap to take a taxi, or to hire a private chauffeur. You could ask your hotel to fix one for you or you could crab one on the streets. Just note that the driver gets paid to bring customers to certain restaurants and the restaurant might not be the best one in the area.
Shopping: Batik, silver jewellery, wooden sculptures, arts and crafts. You may also buy the most expensive coffee in the world in Bali: Kopi Luwak .